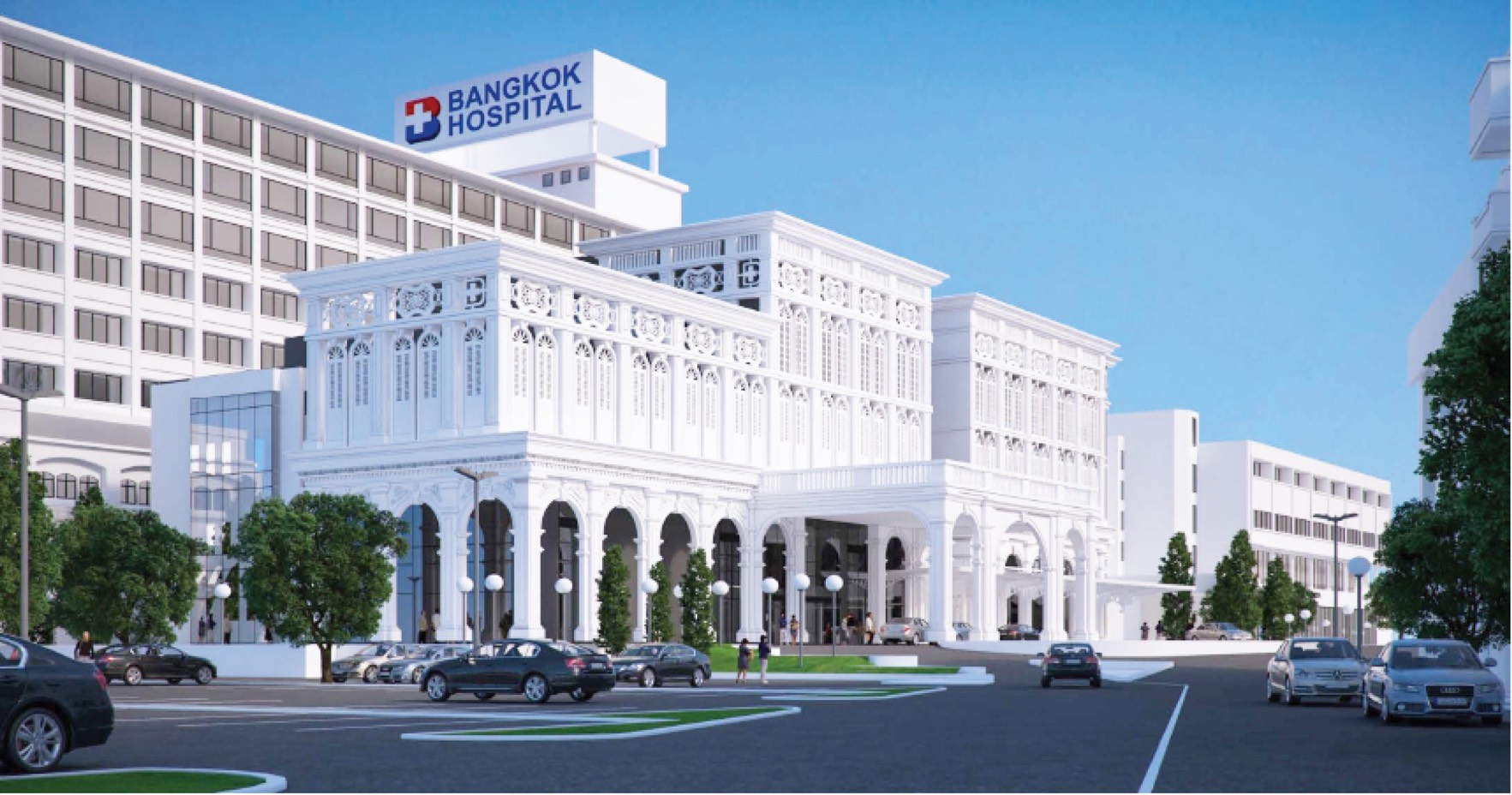 As one of the world's most popular tourist destinations, Phuket is complete in all aspects to cater to all tourist needs, such as a wide array of accommodations, colorful shopping scene, culinary delight, an ample choice of holiday activities suited to all ages. Also, the island does possess remarkable readiness in terms of healthcare and medical services that will definitely wow local residents as well as any coming foreign visitors. This is largely attributed to the top quality of medical personnel, coupled with modern medical technologies, which result in full synergy and world-class standards of medical care.
Bangkok Hospital Phuket humbly opened its doors on 22 May 1995 and has ever since been entrusted with Herculean tasks to come. We are part of the fastest-growing Bangkok Dusit Medical Services (BDMS) group, which is the largest hospital network in the Asia-Pacific and among the world's top five. Having thrived from strength to strength and, we also keep ongoing and investing in human capital and advanced technologies in order to provide the highest standard of medical care to our clientèle. This healthcare sector is an integral part of infrastructure that has driven Phuket towards the forefront in medical tourism and makes us become a world-leading medical tourism hub.
Medical Tourism
Bangkok Hospital Phuket has, for over a decade, played majors roles in underpinning Phuket on the world's medical tourism map. We are proud to have grown and successfully supported Phuket's tourism industry through close collaboration with both the government and private sectors.
The Hospital Accreditation (HA) and Joint Commission International (JCI) are our guarantee which leverages us to become a Hospital of Choice with trustworthy healthcare that does not only attract local residents, but also foreigners worldwide. The number of our foreign clients registers impressive 20% growth, i.e. up from 78,000 in 2012 to 95,000 in 2013, and the figures stays on the rise each year.
We have been keen in medical tourism for more than a decade, and at our cornerstones are cosmetic and reconstructive surgery, dental treatment, and exclusive health screenings, also along with other kinds of medical treatment, such as senior vision correction, fertility care, spine surgery, da Vinci robot-assisted colorectal surgery, heart surgery in the bandwagon.
International Medical Services: "We speak your language"
We serve you with International Medical Service staffed with a team of professional multilingual coordinators. They always ensure your smooth and hassle-free experience at our hospital in the areas of medical communication, international insurance, coordination with foreign embassies, for instance. Thanks to our strong working connections with leading global insurance companies, we are sure to provide seamless assistance to foreigners on the back of direct billing agreements worldwide. No matter where you come from, our team will help you overcome any language barriers: English, German, French, Italian, Spanish, Dutch, Swedish, Finnish, Norwegian, Danish, Russian, Chinese, Japanese, Korean, Arabic, Tagalog.
Awards and recognition
International Standard Organization (ISO)
Thailand's Hospital Quality Improvement Accreditation (HA)
Joint Commission International (JCI) accreditation from USA since 2009 (the first and only hospital in southern Thailand to be JCI-accredited then)
Thailand Tourism Awards 2010: Excellent Award for Health Tourism Hospital (Private): Nationwide
Asian Hospital Management Awards 2012: "Comprehensive Mobile Check-up Beside You" for Marketing, PR or Promotional Project category
Asian Hospital Management Awards 2013: "One Stop Service for Check-up" for Bio Medical Equipment / Facilities Improvement Project category "Be Healthy Fair" for Marketing, PR or Promotional Project category
Asian Hospital Management Awards 2014: "Happy Life and Happy Work" for Human Resource Development category "Evolving to the Next Chapter of Medical-Equipment Management and Maintenance through N Smart Database Online and QR Code Program" for Bio Medical Facilities/Equipment Improvement category
"3P for Your Heart: Public Private Partnership Made Cardiac Care Accessible to Heart Patients in Need through the Synergy of Hospitals in Upper Southern Thailand" for Innovations in Hospital Management and Governance category
Learning and Growing Organization
Bangkok Hospital Phuket accords considerable emphasis on training for both clinical and non-clinical staff in a bid to sharpen knowledge and expertise in their respective fields. Furthermore, we keep ongoing with fruitful academic researches in the betterment of medical care and technologies. This academic excellence has led us to substantially contribute to healthcare both inside and outside our hospital. A great number of national and international conferences, symposiums and workshops are held regularly in such a way to educate and enlighten medical professionals from worldwide. This is considered a vital and mutual approach to discover and share medical breakthroughs as well as the latest medical trends and so on.
Outstanding researches:
Surgical treatment for colorectal cancer.
Hiranyakas A, Ho YH.
Factors influencing circumferential resection margin in rectal cancer.
Hiranyakas A, da Silva G, Wexner SD, Ho YH, Allende D, Berho M.
Loop ileostomy closure after laparoscopic versus open surgery: is there a difference?
Hiranyakas A, Rather A, da Silva G, Weiss EG, Wexner SD.
International conferences:
– July 2014: Live Surgery 2014: The Third CPG Breast Augmentation Workshop
– December 2015: The Second Phuket International Symposium in Colorectal Disease
Corporate Social Responsibility
As a socially responsible corporate citizen, Bangkok Hospital Phuket plays key roles in the betterment of local communities, the environment and livelihood of the underprivileged across the country. Past activities related to Corporate Social Responsibility (CSR) include blood donation, mangrove reforestation, clothes/book donations, activities for health promotion and community unity, dugong preservation, and support for Thai Red Cross activities.